25. My first tattoo on right calf: Sun and Moon in Neo-Traditional style by Dria at The Rusty Key, Malta (EU)
24. Corgi Eye done by Chasco.Art in Castle Rock, Colorado.
23. Got this a while ago at Our Lady of Ink in Secaucus,NJ
22. Flowers by Jenni at Electric Rooster Melbourne Victoria.
21. Forearm wrap around Frida Kahlo tattoo by Baby at Mom's body shop, San Francisco CA.
20. Rod of Asclepius by AJ Richardson @ Rabbit and Thorn TO
19. Atheist A. Done by Anthony at Geek Ink In Broken Arrow, Ok
18. Corpse flower done by James Ward at Hypnotic eye tattoo in Janesville, WI
17. First session complete (huge piece I finally had the guts to get started on) – massive shout out to my guy Lecks over at Davidian Tattoo Studio in Hatboro, PA!
16. 17 Year Cicada done by Taylor at Royal 1 Tattoos in Fort Worth, TX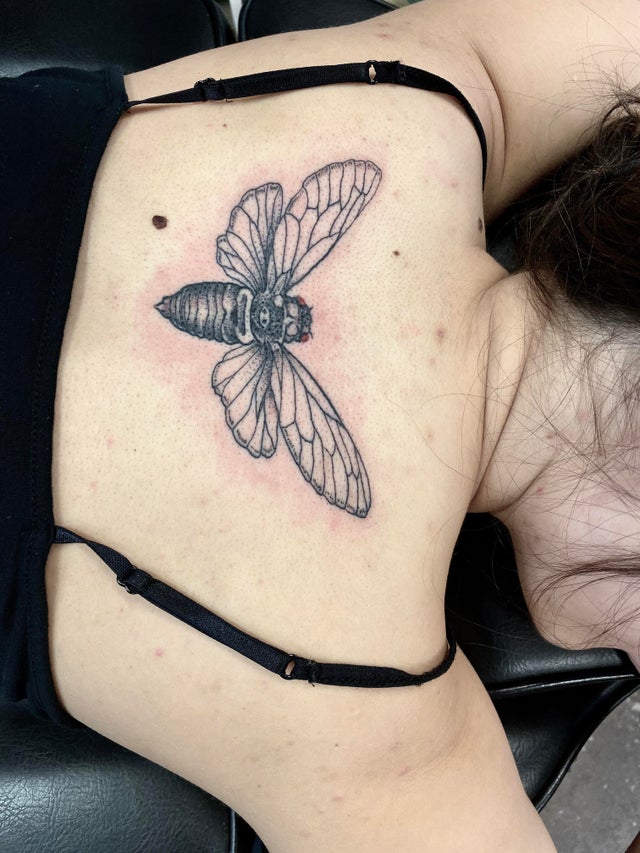 15. Got my first tattoo today at Exposed Temptations Tattoos in Manassas, VA, done by Jose Ardilla
14. a deathly pinky promise on the back of my arm by Sean @ Dead Slow studios, Brighton
13. Coffee Plant by James Thompson @ Studio Twenty7, Brisbane
12. Tattoo by Brittany Korth @ Blue Lotus Tattoo in Madison, WI.
11. Sleeve-in-progress Crane (neotraditional) done by Mark Prata @ Toronto Ink (Scarborough, ON)
10. Done by Horiyama, Sunset Tattoo, Auckland, New Zealand
09. Fresh, sketched tattoo by Wietske from the ink society, Utrecht
08. My favorite tattoo by Natashia at First Class Tattoo in NYC
07. Bulma, tattoo by Miykey @ NYHC Tattoo, NYC. Illustration by Okada
06. Very fresh and still pretty red Can't wait time see how it looks fully healed done by Paige at satellite in the sky tattoo in Glasgow
05. First. By Keith C at TNT Tattoo Co. Fort Worth, TX
04. Dark Watchers half sleeve by Justin Flores @ Earthbound Tattoo Sand City, CA
03. Done by Monta Morino, Sunset Tattoo, Auckland New Zealand (he is based in Tokyo)
02. Second tattoo (wolf in bisexual colors) from Jake at Skin Design Tattoos in Las Vegas, NV
01. My forearm Medusa. By Andrew Stewart at Otherworld in Glasgow