25. Phoenix tat by Deepak @ Kraayonz tattoo studio in Mumbai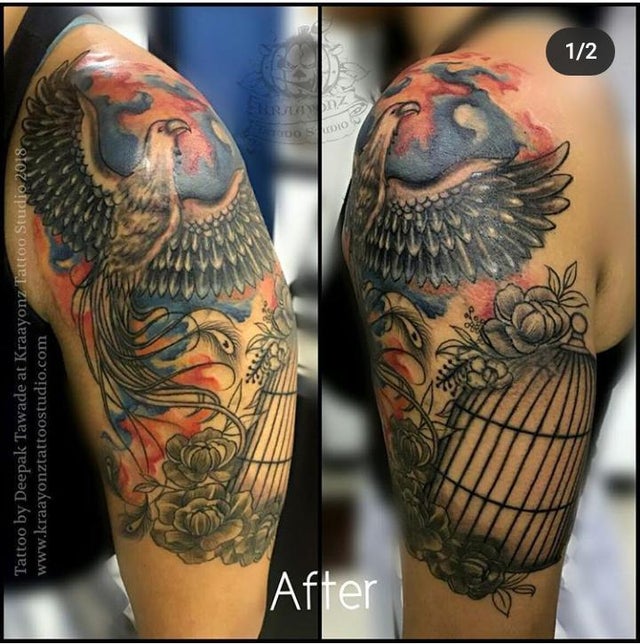 24. Fresh tattoo done by Niall Keogh at Marks of Art Tattoo in San Jose, CA.
23. My first tattoo Keara McGraw at time being tattoo, Chicago
22. Coverup by Kate Cook at Zen ink in Asheville, NC
21. Almost 2 weeks old, hence the shininess. Done by Spencer Watson at Seventh Seal in Panama City, FL.
20. First tatt (pic 2 days healed) Kyle DeCory, Laughing Buddha, Seattle, WA
19. Crow done by Eric Brooks in Frederick, MD @ Classic Electric
18. Memorial rose tattoo for mom – Inked by Drew Northcutt from Bound by Design in Denver
17. Black Swan (2010) inspired tattoo, done by Dragos, Anarchy Design Tattoo, Bucharest Romania
16. My handsome gorilla skull done by Kevin Johnson at the Shaman's Den in Binghamton, NY
15. Meadowlark on an apple branch, done by Amanda at Hyperion Ink, Buffalo, NY!
14. My favorite piece from Dane Smith at Fountain Square Tattoos Indianapolis, IN
13. Percy the Jackalope Billy Oz Johnson, Downtown Fineline, Bakersfield, Ca
12. Memorial tattoos done by Chris Borchik at Evolved Tattoos in Columbus, OH.
11. Polyhedral dice by Jay at Eagles Dare in Glasgow
10. Fox and Butterfly. Artist Levi @ Bloodline Tattoo – Shreveport, La
09. Paul Dobleman style by John Setzer in Richmond,VA at YellowBird Tattoo
08. Done by Cam Sevigne at Great Spirits Greenfield, Ma.
07. My New tattoo done by Logan Mcgibbony at Envisions Ink in Conway, AR
06. Fragile concept art from Death Stranding done by Fabio Montenegro at MontBlack Studio (Orlando, FL)
05. Medusa, Rob Levis, Hourglass Tattoo, Worcester, MA
04. 5th tattoo! Done by Rae at The Crooked Claw, Sheffield UK.
03. Custom Tattoo by Scotty Ryan. Done at Jim Wolfes Original Tattoo Zoo located in Fort Walton Beach, Florida. Thanks for looking!
02. Little bumblebee I had done by Lucia at Art Lab tattoo in Cork, Ireland
01. Fresh Spider-Man tattoo by Wyldish Bambino @ Bridge Street Tattoo, Chester.