25. Got this fun little eye done by Rosalyn at Salon Serpent, Amsterdam, Netherlands
24. Hp Lovecraft inspired tattoo done by Sapo at Scorpion Studios in Houston, Tx. Proud of this baby
23. My 1 day old palm tattoo by Deathorglory666 at Monarch Tattoo in Wellington, New Zealand
22. My take on the eye of Odin. Done by Jade at Lochnar Tattoos, Saskatoon. Will post a healed pick in a week or two.
21. Went on vacation and came back with tattoos!
20. One from my flash. andreafurci82@gmail.com – London – Seven Doors Tattoo
19. My chest piece. By Ivan Androsov @ Crown and Anchor Tattoo Parlor, Point Pleasant, NJ.
18. andreafurci82@gmail.com -London – Seven Doors Tattoo
17. Pirate sleeve by Lynn Louise Hana @ Gone West Stavanger
16. Watercolour by Adam Kremer(Black Bull Tattoo) Prague.
15. Healed Ocotopus – By Matteo Nangeroni at White Whale Tattoo Society, Padova Itlay
14. does anyone know what type of art style this is or lead me to similar looking pieces anything helps, thanks & stay safe
13. At the mountain of madness inspired tattoo. By Paco @ Lughspirit, Lyon, France, 2013. Black and white ink.
12. Healed pic from a tattoo done by Melissa Fusco, Black Sage Studio in Evergreen, CO
11. art by me, tattooed by Sophie at ATX Tiny Tats in Austin, TX. healed, done over 2 weeks ago!
10. Healed approx 8 months. Richard Lazenby, Crooked Claw Tattoo, Sheffield UK
09. healed lady heads done by Eric Solis of Black Dagger in Austin, TX! (Oct 2019)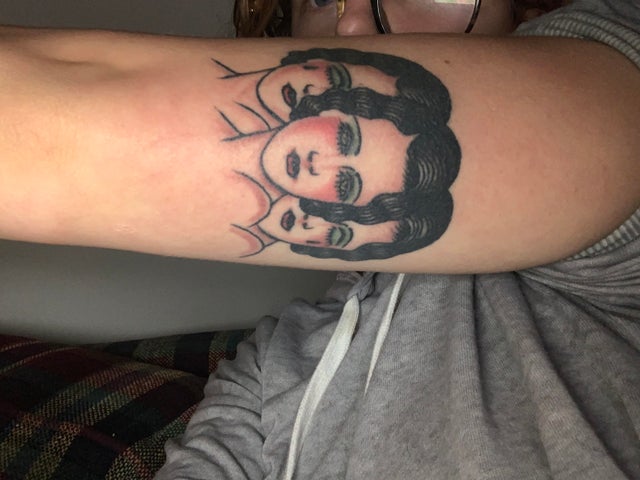 08. Healed Creation of Adam by Jay Michalak Nov 2019 – Boston Tattoo Company Cambridge, MA
07. Repost This is NOT a fresh tatt. got this done October of 2018. Shop Iron Heart Location Des Moines, Iowa Artist Paul Nycz
06. Sorry posted this earlier but didn't see the community announcement. Ngoo Sak Yant tattoo done by Mee at Golden Needle tattoos in Phuket, Thailand. Had it done January 21 of this year. Healed.
05. Healed freehand hammerhead done a couple years ago by Tana Tokoragi at a guest spot at Immaculate Concept. Calgary AB.
04. My half sleeve fully healed done by Douglas Bermudez (Master-Piece Tattoo shop) in Aruba , Palm Beach.
03. Half sleeve inside and outside done early 2019 by Cal Tattoo at Honorbound in Calgary.
02. Healed Octopus done by Tana Tokoragi a couple of years back at the Calgary Tattoo show in Calgary AB
01. Healed sunflower cover up. Before picture in comments. Done by Paige at Black Art Society in Salt Lake City, Utah.