Floral tattoos are tattoo styles characterized by the description of flowers and associated flora motifs. Its roots stretch as far back as the classical tattooing traditions themselves.
Flower tattoos appeared in all shapes, colours and styles. These tattoos are aesthetically pleasing and can hold compelling meaning, thus checking the boxes for the two most important elements people consider before getting ink done.
Origin of Floral Tattoo
Looking at the history of the tattoo itself, we see that people have used flower designs since they started to get ink on their bodies. It was present in tribal traditions via symbols and patterns and helped establish a sense of identity.
Floral Tattoo Meanings
A floral tattoo conveys the meaning of the flower that it represents. Of course, the purpose is always distinctive, especially if it's in your own body, but it's essential to consider that each flower bears a commonly perceived meaning.
Rose
Roses can be found in almost any colour and style and nearly all body places. However, the meaning depends strongly on the colour chosen, and therefore we composed a guide with the most popular colours and examples:
Red: A red rose signifies love, romance, beauty, hope, and new beginnings.
Pink: A deep and fiery pink represents appreciation, gratitude, feminine beauty, respect, and recognition. A lighter pink hue stands for joy, happiness, and gentleness.
Yellow: A yellow rose means friendship. It can also signify new beginnings and happiness.
Lavender: The colour lavender stands for enchantment and love at first sight. It can mean feminine beauty and elegance.
White: White mainly stands for purity and innocence. It could also mean sympathy and spirituality.
Black: Black is a tragic colour for a flower. It signifies something along the lines of death, heartbreak or regret.
Coral: A coral rose is for friendship, modesty, and sympathy.
Orange: An orange rose represents desire (enthusiasm), satisfaction, fascination, and positive energy.
Lotus
This flower has a mystical solid feel to it due to its strange life cycle. Most Lotus flowers only last up to 5 days before dying, but in those few days of existence, the flower reacts to sunlight by opening to be pollinated by insects, closing at sunset and retreating into submersion into the water, only to come back to life the next day and to repeat the cycle.
It is used in religious and religious ceremonies, and its imagery has been present in a wide range of rituals, from Egypt to India, to Vietnam. However, most people associate it with relaxation, self-control and spirituality due to the Lotus posture in Yogi practices.
Tulip
The Tulip has a funny story. It originated in Persia and modern Turkey, just like Roses did, and travelled to Europe with merchants during the 16th century. There, the Tulip became popular. In fact, so popular that its value skyrocketed, causing what was named the "tulip mania."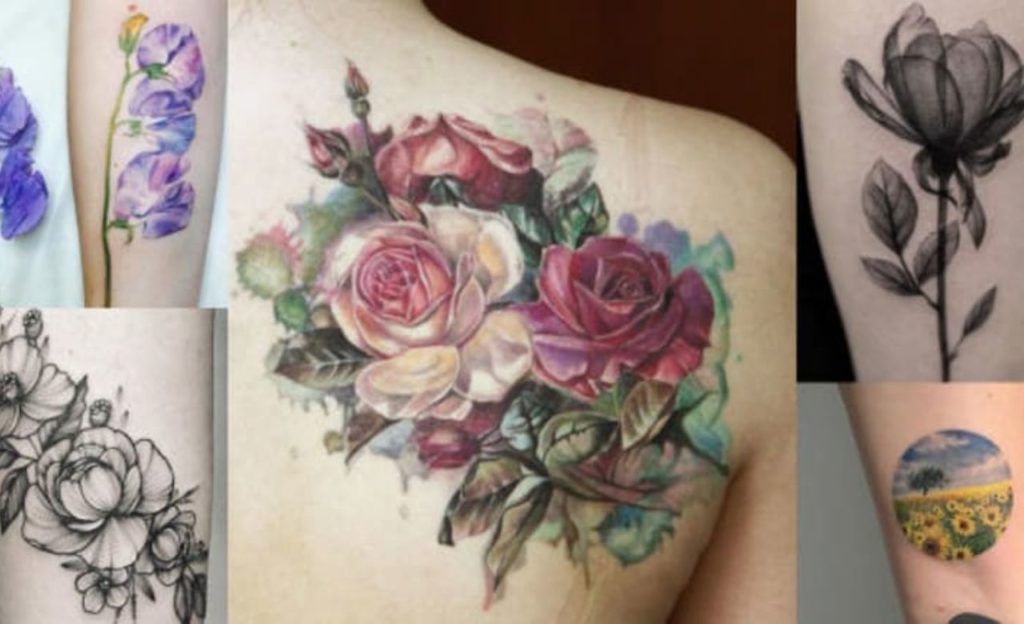 Lavender
These flowers are unique due to their shape and colour. Tattoos of this flower are unmistakable and will always make a presence. They have a solid yet delicate company, and several people can instantly connect to the smell of the flower brings them.
Sunflower
Sunflower is the golden colour of the sun. It stands for happiness, warmth, creation, positivity, longevity, and new beginnings.
Cherry Blossom (Sakura)
The Cherry Blossom is a favourite flower in Japan. Widely used in Irezumi compositions, it is a symbol of spring and new beginnings. Tattoos mean beauty, elegance, and appreciation of what you have before you lose it.
Daisy
Discreet and elegant, this flower is a popular choice for those who want to have something cute and classy. Daisy tattoos came in all forms and shapes, sometimes including solely the petals and the stamen, other times a complete composition involving leaves and animals, and other times included in a bouquet.
Daffodil
A daffodil flower stands for rebirth and new beginnings. Also, if it is yellow, it signifies happiness.
Acacia
Acacia can mean concealed love and friendship but most often depict life, immorality and perseverance, as this species is known to be very fire-resistant, generally not burning in the first wave of bushfire.
Camellia
It is another one for the dreamers. Having a Camellia floral tattoo design means you have been longing for something for a long time. It signifies that you have a strong desire and passion for something.
Dahlia
Dahlia represents elegance, personal bonds, change, and dignity. However, on the negative side, a Dahlia could also represent betrayal, instability, and being on the receiving end of dishonesty.
Hibiscus
The meaning of Hibiscus depends on the type of art. You see, in the eastern culture, Hibiscus stands for gentleness, while in the west, it means power, royalty, and respect.
Iris
This flower has meanings connected to each petal, signifying faith, courage, and wisdom.
Plumeria (Frangipani)
Plumeria has a strong history, with its meaning changing through time. Among the Mayas, the plumeria plant represented life and fertility, and the flowers were strongly connected with female sexuality. The Aztecs signified elite status. In Southern Asia, this plant has many meanings, according to who you ask.
Lily
Lilies come in all colours and shapes. They are fundamental to the northern hemisphere but recognized and loved throughout the world, being one of the most popular flowers getting tattooed now, especially in Asia.
Poppy
In ancient Greece and Rome, poppies used to be offerings for the dead. Thus, they represent eternal sleep, and sometimes, the loss of a loved one.
Peony
In Japan, they refer to Peony as the 'King of Flowers.' It is because it represents wealth, elegance, and royalty.
Orchid
Orchids have different meanings in different cultures. For example, in Japan, it stands for bravery, while in Aztec, it symbolizes power and strength. In addition, an orchid flower means prosperity, fertility, and refinement in Chinese culture.
Chrysanthemum
The petal-rich flower is a popular choice for tattoo getters, especially in Neotraditional and Irezumi tattoo. It signifies happiness, optimism, and joy. But, of course, it could also mean perfection.
Conclusion
Flowers look splendid and on the skin. They present an excellent way to tell your story if you know what they mean. All you need to do is make sure you have the right design and identify the best tattoo artist who can give it life.