Love tattoo symbolizes closeness, passion, desire, and affection for each other. They are filled with concealed messages and figures to hint at the person of one's inner emotions. Love tattoo designs also display bonding with their parents, siblings, and beloved idols.
Let's discuss different types of love tattoo designs and ideas with meanings to inspire you.
The Fingers Love Word Tattoo: These best suits men who wish to make a bold statement about their inner feelings. The letters are done using black ink. So get them done on your fingers…
The Musical Love Tattoo On Hand: This design suits women and suits men who have a penchant for music. The letters are done using black ink. Get them done on your wrist.
The Heart Beat Love Tattoo Designs: If you think someone is your heartbeat, this is the perfect tattoo design for you. Opt for a primary black-colored ink. The design looks fantastic when done on the inner wrist.
Love Symbol Tattoos For Fingers: Get these King and queen heart tattoo designs if you are passionate about the game of cards. They can be created in either red or black. Go for the area between your fingers.
Butterfly Word Love Tattoos: This cool and creative butterfly love tattoo suits women and girls who wish to stay optimistic and enjoy limitless love. Black ink is the best color. This is a mid-sized tattoo. Get it made on the back, shoulders, or arms.
Lower Back Love Tattoo Designs: The angelic heart design suits women and girls in love with someone. You can apply black to outline the design and colors like red to fill it up. Work for the lower back area.
Rose Love Tattoos On Body: This creative rose tattoo suits both men and women who wish to declare their budding love for someone special. Go for colors like red and green. Opt for the surface of the abdomen to spot the large-sized rose well.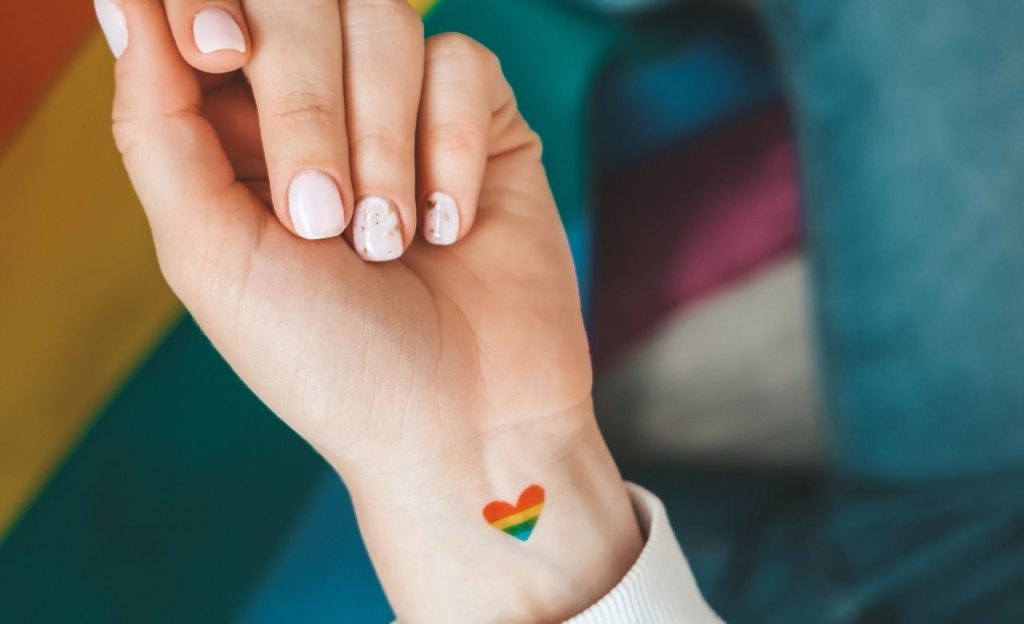 Angel Portrait Love Arm Tattoo: Angel tattoo is for expressing love for their children. Go for pastel colors like pink, blue, beige, and white. This tattoo is best accomplished on the arms.
Amor Love Tattoo Designs: This colorful tattoo is for men and women who wish to inspire the Spanish culture to declare their love. The tattoo is made with brighter hues like orange, green, red, and yellow. You can arrange this inked on the arms, back, and neck.
Music Waist Love Tattoos: This cute music love tattoo design suits those who wish to use the art of music to express their love. Go for black-colored ink. Opt for places like belly, wrist, fingers, and anywhere on the body.
Lily Song Love Tattoos Art: This beautiful design suits men and women who wish to declare their love for each other using floral symbolism. You can use black-colored ink with hints of brick red. Get it done on the side of the belly for a unique look.
Little Hearts Love Tattoos Design: This unisex tattoo is for those who adore their parents dearly. Preferable Ink: Employ multi-colors like red, green, yellow, black, and purple. Get it done on your hands for better visibility.
Wrist Love Tattoos: This tattoo is specially designed for women who want to express their love artistically. It is best done in black-colored ink. Best done on the arms and hands.
Conclusion
Not only do they seem stylish, but they can help in speaking your heart out without having to say a single word from your mouth. Love tattoos are about physical love and symbolize respect, honor, devotion, and someone. You can even add a touch of spirituality by associating them with the Love of God.