279. Sacred Heart done by Carissa, Requiem Tattoos, Halifax NS
278. Scorpio Tattoo – Elliot T, Sinking the Ink, UK
277. Melting Pink Panther by Mike Attack of Taylor Street Tattoo, Chicago
276. My fresh fruit bat tattoo ready for the Halloween season! Done by Christel Perkins at Tribal Rites in Fort Collins, CO
275. My childhood home by Anais Urquia @ Black Moon Tattoo Studio – Quito, Ecuador
274. Second tattoo of a cool wave design I found online. Done by Mark at Powell River Tattoo Company in Powell River, British Columbia
273. My leopard shaman, done by Emma Eichner of the Darling Gray in North Conway NH.
272. Narnia Quote by Madeline at Broken Clover in Tucson.
271. Phoenix by Tubi at forevermore in Glasgow. My first Tattoo but definitely not the last.
270. Progress on my video game themed sleeve by Brynn Sladky, Fortune Tattoo, Portland, OR
269. New tattoo compliments of Brad Turek. He does great work and has free handed everything so far.
268. Joker X Harley Quinn done by me at War Kings Tattoo Orlando, Florida
267. Seppuku frog done by Hannah @ lone star tattoo in Dallas, TX.
266. Hell cat tattoo done by Javier Antunez (me) out of Tattooed Theory, Miami FL
265. My back arm tickler for time out tattoo in Chicago, Illinois by Keara McGraw!
264. First tattoo by Chado at savage tattoo in Ogden, Utah!
263. Got this bee today for my dad! Super stoked with it. (Britty – Titan Tattoo in Nashville, TN)
262. Filling some empty space. Done by Carrie Daniels at Hula Moon.
261. Wife and I got matching tattoos by TK at Chronic Ink in Toronto
260. Hammerhead shark done by Chip Douglas at Great Lakes Tattoo, Chicago IL.
259. My newest tattoo. Done by Joey Malia at Transcindent Tattoo in Kankakee, Illinois.
258. Wolf tattoo~ By Artist Zoey at Studio in Shijiahuang, China
256. Courage the Cowardly Dog, by Mikey at A Different Drummer, Cape Girardeau Missouri.
255. been planning this out for about a year, so happy with the results. The Great Wave @ Empire Tattoo in Pittsburgh PA
254. Hut in the mountains by Mentat Gamze guesting at Sashatattooing, Barcelona
253. My Newest Addition. Done by Leo at Art Dynasty in North Carolina
252. "Fred the Dragon" by Holly at 777 Tattoos, Tuckerton NJ
251. My Second Tattoo: Darth Vader by Cat at In Living Color, Fort Myers FL – 2016
250. Magnolia and Jasmine flowers by Dana Glover at Brilliance Tattoo (Boston, MA)
249. My first big(ish) piece! by Chris Lopp @Absolute Tattoo in Charlotte, NC
248. Traditional "Chat Noir" by Richard Lazenby at Crooked Claw, Sheffield
247. Celebrating my one year in Texas the best way I know how. Bull skull by Chad at Embrace the Chaos in Waco, Tx.
246. Memories from NZ created by myself and Aries from Exile Ink in HCMC, Vietnam
245. Junior did not disappoint. Red Wing Tattoo in Winona MN.
244. Done by jacob_tattoo as guesttattooer in vienna, austria @blackhandsocialclub
243. My new tattoo by Josh Mcnair at Jackson St Tattoo. In Roseburg Oregon
242. Komainu by BENI @ Tattoo Studio Ray's in Kyoto, Japan
241. First tattoo!! Done by Alejandra Cantu at Noche de Brujas in Monterrey, Mexico
240. Ship to add onto the arm. Done by Emily Elinski at Armature Tattoo in Pittsburgh, PA
239. My first tattoo. My dogs paw with their names inside. Done by Jens from all ink tattoo, Denmark
238. Nothing too crazy but I like it. Done by Jon Butcher. Modern Love Tattoo, Buffalo, NY
237. Tattoo #23. My Mom's favorite flowers were daisies. Done by Luke Wolf at Grand Union Tattoo in Indianapolis.
236. Work in progress. Floral half sleeve. Artist- Clay Thames- Trinity Tattoo- Virginia Beach, VA.
235. Eyescream by Amanda at Mission Ink, San Francisco @0uchless on instagram
234. My first big, visible tattoo! Done by the lovely Davide TC of Sang Bleu London
233. My first tattoo! So happy i finally got it done
232. Zozoville character, done by Ael Lim at Imagine Tattoo, Singapore
231. X-wing and Delorean by Brik Rangel, Studio 82, Sao Paulo/Brazil! I loved it!
230. Artist: Takato – Location: Adrenaline Tattoo in Toronto, Canada. Theme – Family Tree with Wolf Guardian.
229. Courage the Cowardly Dog by Olivia at Shipwreck Tattoos, KL, Malaysia
228. First tattoo, Samurai done by Jimmy Lai at Jimmylaitattoo in San Jose
227. Line work for Keith Haring iconography half sleeve by Andrea Lynn Thornton at Kollective Studio in Cleveland, Ohio.
226. My first session for this beauty. Been dreaming of this tattoo for years. Waiting to get some colour and then watercolour splashes. Done by Apex Custom Tattoos in Adelaide!
225. My father got this tattoo in Paris in 1969. This is the tribute piece I got done yesterday. My dad's reaction: "Mine was that colourful 50 years ago!"
224. eight of cups to commemorate my upcoming move, by sam park at all wolves no sheep in brooklyn!
223. Got my first tattoo on Friday! Artist did a hell of a job! (Jason Hartz/From the Heart Tattoo, Wildomar CA)
222. Jeremy Barnes, Eulogy Tattoo, Canton OH. Covered up my "drunk dad at Myrtle Beach 1994" tribal tattoo.
221. Roger Dean tattoo by Jarrett Martino at Solid Gallery One Los Angeles
220. A representation of Alaska- done by Rachel G at Exotic Eye studio in Homer
219. New piece done by Molly at Full Moon Tattoo Melbourne
218. A clockwork orange done at Fountain City in Kansas City by Laci
217. Cthulhu by Matt Hunt @ Modern Body Art, UK
216. Eric at Port City Tattoo, Wilmington NC
215. My first big tattoo! Flower piece by Kate Irvine at Mean Street Tattoos, Bensalem PA
214. Cernunnos – by Nate from celebrity ink, Melbourne central
213. "Rolling Rocks" piece I received yesterday from Amy Emerald at Jesse James Tattoo in Berkeley, CA
212. My first tattoo: Dalí's Elephant and Obelisk, by Jandro Mora at Studio Madrid Tattoo in Guadalajara, Spain
211. Scales of Justice by Joey Knuckles @ Sacred Hand Tattoo Society in Columbus, OH
210. Finally making some great progress on my eventual full sleeve! Work done by Corey Barrett, Good Ink Tattoo in Vermont
209. Dark Souls Bonfire, by Chris at Sakura Tattoo, Winchester VA
208. WIP on my Japanese suit by Titus in Munich, Bavaria
207 Going home – Nice thigh piece done by Bruce The Kid @Good Things Tattoo Company in Cape Town.
206. Doom Cacodemon by Scott Prather, Sleepy Hollow, Fort Worth, TX
205. Tattoo by marko @ the hand of hope in Stockport
204. First Tattoo. Octopus done by Logan Delong, Cloak and Dagger, Dayton, OH.
203. My Teen Wolf Inspired Tattoo done by Brittney Haili at Lion's Paw Tattoo in Everett, WA
202. I'm concerned about how my design will turn out. Any advice?
201. Done by Brandon at Electric Hellhound Im Phoenix, AZ I'm in love!
200. Done by Buster at Ink Buster Tattoo // Long Island, New York
199. Steadily been working on this fantastic piece with Jess @ Art Club Tattoo in Danbury
198. A tired Mandrake done last year by Leti Mortimer @Vagabond Tattoo in London.
197. Got this sick spirit wolf tattoo this week! Credits to Fred Caliare at Caliare Tattoo House, MG, Brazil
196. Newest tattoo of my darling Iris from lily (@needle.mistress), cock a snook, newcastle
195. Taken right after it was finished! Done by Cat from Patriots in Fairfax, VA
194. Van Gogh and a cat. Jake at Everlast Tattoos, Mentor, Ohio.
193. gaming scenery storyboard by Baris Yesilbas at Fleur Noire in Brooklyn, NY
192. Two-headed skeleton by Jessa from Boerne Tattoo Company in Boerne, Texas
191. My first tattoo, featuring my two cats, done by Niki at Tattoo People in Toronto, Canada
190. Grim reaper by Kevin Richart @ Golden State Tattoo in Garden Grove, CA.
189. By Kris Roberts at serpent and the rainbow tattoo in Asheville NC
188. Working on traditional japanese dragon half sleeve. This is two 7 hour sessions, back to back. Hopefully only one more is needed. Artist is @elektrikmarkus (Studio "Ekersgatan 13") from Örebro, Sweden.
187. Francisco Sanchez's work from Inkslingers, Alhambra. First tattoo to represent California. Two of my brothers were born here.
186. On Top of the World. Tattoo done by Doozer at Silver Key in Davenport, IA
185. 3/4 snake and hanya done by Andy Tran at My Tattoo, Huntington Beach California.
184. My snake & orchids done by Evie Alexandra at Diehard Piercing and Tattoo in Albany, Oregon
183. Munchkin Cat by Kelly Doty at Helheim Gallery in Salem, MA, USA
182. Portrait Tattoo of my great grandmother ! Done by Kevin Laroy from Black Ink Crew
181. By Kris Roberts at serpent and the rainbow tattoo in Asheville NC
180. By Kris Roberts at serpent and the rainbow in Asheville NC
179. First tattoo! Yamata no Orochi done by En @ Horizaru Tattoo
178. Some angery bones I got today, by Tattoo Sioux at Good Faith Tattoos, Boston, MA
177. Wolfman tribute tattoo. Done by Jacob Bowman at West Anchor tattoo, Cleveland Ohio.
176. Bell rock landscape by Eric Lynn, Physical Graffitti, Sedona, AZ
175. Poppy by Levi at Kingdom Tattoo in Atlanta, GA
174. Double rose tattoo done by Kyle Kozek at Studio 13 Tattoo in Toledo, OH
173. Apollo by Justin T. at Skin Design Las Vegas, NV.
172. "Compassion is the solution" – sunflower tattoo by Marie Louise at Pierce n Tattoo Hospital in Zwickau, Germany
171. Traditional tiger tattoo done by Chin at Common ground in Bangkok.
170. Kudzu suffocates everything it covers. And then a helping hand pulls you up + out. Done by Dusty at SparrowHawk in Atlanta, GA. (got this in January but just found this sub!)
169. White-throated dipper sitting on a birch twig, lily of the valley and lady bugs by Bård Tjelta at The Serpent Twin in Oslo, Norway
168. Great Horned Owl w/ Captivating Eyes by Appolo.Tattoos from Wilkes Barre, Pennsylvania (570 Tattooing Co.)
167. An adaptation of a Virgil Finlay illustration, by Leta Gray at Spirited Tattooing Coalition in Philadelphia, PA
166. I've always been obsessed in giraffes so finally I have my amazing new giraffe by Scott at The Country Gent in Holmfirth
165. Full Sleeve Done by Ben, Sola Fide Tattoo Society. OTTAWA, ON
164. Polynesian Half-Sleeve Progress by D Russ at Mana'o Tattoo in Los Angeles, CA
163. My first tattoo and I couldn't be more happy with it. Done by Asa at Liquid Courage in Omaha, NE
162. My first tattoo – Jose Camarillo – Art Never Dies Tattoo and Art Gallery – Seattle
161. Tattoo of Apollo done by David at the Black Dahlia Tattoo Gallery in Ohio. My 1st (of many) tattoos
160. Norse Longship by Lewis @ Empire Tattoo Studios, Banbury, UK
159. First tattoo, Neon Dragon Tattoos Cedar Rapids IA, by Zane Decker
158. Lohikeitto tattoo done by Joni at Red & White Ink in Oulu, Finland.
157. A little queen bee by Jaclin Grace. White Whale Tattoo, Cincinnati, Ohio
156. Fresh neotraditional astronaut, by Andrew at Otherworld in Glasgow, Scotland
155. Pretty little crystal ball by Hannah at Breaking Skin Tattoo in Bridgeport, OH
154. Just got a custom piece from David Peyote in Montreal! Absolutely blown away by his art and skill!
153. Umbreon by the always amazing Jenn Gawle from Timeless Tattoos, Chicago.
152. Very first tattoo: portrait of my horse by Marie at Martistic studio in Portneuf
151. First session in the books! Skeleton astronaut by Cooper, Ascension Body Mod in Albuquerque,NM.
150. Latest pokemon tattoo by brady lutey westcoast tattoos australia
149. Modest Mouse, Building Nothing Out Of Something. By Chuck at at Revolver Tattoo; New Brunswick, NJ
148. Jason to start a Horror and Geometric sleeve. Done by Emily Paul @ Black Sail Studio, Long Island, NY
147. 6 hours later happy as with the results. David, black fox tattoos, TRARALGON.
146. American traditional piece. Done by Ron from Lone Wolf Tattoos in Bellmore, Long Island. Fantastic work as always!!
145. Colorful Geometric Seahorse done by Greg at Unicorn Ink (Providence, RI)
144. The beginning of my sleeve! Hercules & Perseus done by Robert Pho at Skin Design Tattoos in Honolulu
143. Black work jellyfish, done by Jes at Iron Quill in Madison WI
142. 3.rd step to sleeve : Scarecrow(Arkhamverse) done by Paul Munteanu at Poly Tattoo Studio, Bucharest
141. Session #4: Brandon Hanna Nashville, TN East Tattoo Collective
140. Red Squirrel by Courtney at Moving Shadow Milwaukee
139. 6 hours later happy as with the results. David, black fox tattoos, TRARALGON.
138. First tattoo , custom designed and applied by Justin Walker Hughes at Persecuted Tattoo in Greer South Carolina, USA.
137. American Traditional Submarine (USS Henry M Jackson) Jeff Holmes, Bellingham WA, KALAMALKA INK
136. Neo-Victorian Owls (start of a half sleeve). By Mike Schweigert at Electric Tattoo, Asbury Park, NJ
135. My amazing traditional skull made by Bruno Miguel, at Rusty Dagger Tattoo (Lisbon)
134. The Green Ranger by Dan Kelley at Skull & Snake Tattoo in North Berwick, ME.
133. Self portrait (31) done by Barulia at Black House Tattoo Prague, Czech Rep
132. Geralt the white wolf, fresh and healed. Done by Dmitri Shestakov at Artwork Tattoo, Helsinki, Finland
131. "Only Judy can judge me" – by Rachel Baldwin, Bold as Brass Tattoo Company, Liverpool, UK
130. Chysanthemum with skull by the amazing Lucas Ferreira, done at Bat Country Club, Portugal
129. Bear catching a salmon by Kris Phillippe at neon dragon tattoo in cedar rapids, ia
128. Dragon Head 1/4 sleeve tattooed by Lucky at Project Ink in Seattle, WA
127. My pinup nurse by Nason Dilts at Serenity Body Arts in Southampton
126. Snow leopard from Umbrella Ink, Valparaiso IN
125. Traditional tiger by Nathan Donahoe @ Ace of Swords in Regina
124. My first tattoo, done by Alicia at the Rolling Sea, in Nova Scotia
123. Inspired by Blue Oyster Cult's (Don't Fear) The Reaper – Done by Ilja Sado of Devils Ink Lab in Powidz
122. Medusa. Done by Colin at Gold Rush Tattoo. Costa Mesa
121. Cheadle Village (my home town) by Mr Preston @ Heartless Hands Club
120. Girl head gap filler by Cassandra Frances (guesting) at The Dolorosa Tattoo in Los Angeles, CA
119. flowers, done by Chris Spence at The Fox and the Machine, in Calgary, AB
118. First Tattoo! Done by Dexter at Armature Tattoo
117. New tattoo, done by Ping at Ink Therapy Studios in Hickory, NC
116. Dionysus WIP from Justin T. at Skin Design Las Vegas
115. Little brown bat by A-B Moore of Constellation Tattoo Collective
114. (In progress) Valkyrie by Nikki Simpson at Grit n Glory, NYC
113. Lone Wolf – Half sleeve coming this week – (Artist: Johnny Wilkinson, Redwood Tattoo Co., Redwood City, CA)
112. Shawangunk Ridge near New Paltz, NY done by Ryan Gatt of Salvation Tattoo in Baldwin
111. Another piece for my sleeve. The Reaper. Done at Drop dead Tattoo by Kristian in Sweden
110. looking for help on shading/filler ideas for my shoulder piece
109. Inspired by Blue Oyster Cult's (Don't Fear) The Reaper – Done by Ilja Sado of Devils Ink Lab in Powid
108. 1/2 of my floral half sleeve (it wraps all the way around) — Artist: Lydia Hazelton @ Fox and Dagger Tattoo
107. Other side of my floral half sleeve (pls ignore my goosebumps) – Artist: Lydia Hazelton at Fox and Dagger Tattoo
106. My third eye by Archibaldt @ 13 Tattoo
105. Clutch done by Chuck, Red Dagger, Houston,TX
104. First tattoo done by Pierre-Joseph Oricelli. Tattoo Boutic. Reunion Island. Now I'm ready for bigger pieces xD
103. Skull and roses by Max Millette at Zen tattoo, laval qc
102. Front part of my sleeve is complete. Time to start on the inside! By Rick @ Hitlist INK in Houston
101. My latest tattoo done by Dani Queipo at Sang Bleu Tattoos
100. My Sun Wukong tattoo done by Ans from Tattoo Machine
99. My floral half sleeve done by Siobhan Alexander at Bird and Bones Studio in Bangor, Maine.
98. Blackwork Druid by Dan Mason at Omkara Tattoo Philly. Left) after first session, Right) Finished piece today!
97. My Astronomical/Doctor Who sleeve. Done by Shenan Tucker at Gold Tiger Tattoo in Saratoga Springs, NY.
96. JD O'Kelly Anatomy Tattoo Portland OR
95. 2nd angle of trash polka sleeve by Kelsie Havener at Scarlet Raven in Lincoln
94. The album art of Nothing is Beautiful by SPITE, done by my bud Seth down at Imperial Tattoo in Wausau, WI!
93. Amalia Rose Bush – Mom's Favorite (Johnny Wilkinson, Redwood Tattoo Co. Redwood City, CA)
92. My New Lion Tattoo Done By Juan at Diamond Body Art in Phoenix, AZ!
91. WIP.Flowers by Marqui.Get up tattoo society.Cincinnati Ohio
90. My latest tattoo done at the Seattle Tattoo Expo. Done by Isaac Aguila at Bearcat Tattoo in San Diego, CA
89. Mama and baby koala by Greg at Atomic Roc in Rochester, NY
88. Done by Viv Ink, Velvet Underground
87. New piece by Abe Avila @ Lucid Tattoo
86. My meditation/outdoors themed tattoo. Done by Doozer at Silver Key Tattoo in Davenport
85. Brain and heart by the wonderful Ghinkos. Blindreason
84. Neo-Traditional Great White Shark by Nick Amble. Whistler Street Tattoos
83. You guys seemed to really like the line work I posted before, so here's the final outcome! Done by Kyle Giffen at Little Pricks Tattoo
82. Bear and demon by AJ at Civility and Unrest in Bellevue, WA
81. Geisha by Frank Martinez @ Victory Tattoo in San Angelo, Tx
80. Vase by Gold Wrks(Ian) at bed of roses tattoo, Tampa FL
79. Tattoo inspired by the film Hardware, by Jamie at Tattoo Revival in Winston-Salem, NC
78. Alamo taco I had done last night, by Jackie, at Rings of Fire Tattoo in downtown San Antonio
77. Accurate username. By Matt Charles @ Fudoshin
76. Wilderness visitors by Amber, UVs tattoo, Leominster MA
75. Tari by Pete Miller@Underground Art, Inc. Memphis, TN
74. SRV tattoo by Cody Buck from Buckin Tattoo in Colorado
73. Traditional Devil done by Dan Brown. Dark Mark Tattoo, Keene NH
72. Portrait of my Dad by Bob Kling @ Wise Guys Tattoo Society Dayton, Oh
71. Courtney O'Shea. Nashville, TN. Black 13 Tattoo Parlor
70. Dragon Dæmon by Knotted Swords at WitchHouse Tattoo
69. Dotwork Planchette by Alicia Anderson at Lucky You Tattoo in St. Petersburg
68. Lil ghost boy from Sheila at Electric Cat Scratch in DC
67. 3 Single Flower Bouquet by Sean Hollinger @ Kings Head Tattoo in San Diego
66. Flaming sword and moon by Andrea Wiseman from Wildwood Flower Tattoo
65. Got my first tattoo some weeks ago, and I love it! Done by Yoshi at Master Ink Tattoo Nagoya
64. My Phantom Pain tattoo by Joshua Jimenez at Black Tie Affair Tattoo Parlor in Artesia
63. Tri-Wizard Tournament/Goblet of Fire Piece by Jay Phoenix at Phoenix Ink Tattoo in Southington
62. Kelsie Havener at Scarlet Raven in Lincoln, Nebraska. Half of a full trash polka sleeve.
61. Shading finished: Jacob Wrestles the Angel of the Lord. Done by Rita Lystrom at Bombshell Tattoo in Rice Lake, WI. Can't wait to add more.
60. My first tattoo: An octopus done by Alex Bock at Oak and Iron Tattoo, Brisbane
59. Flower lady done by me (Shane Olds) at Rise above Tattoo
58. Tree by Ash at 7th Street in Little Rock
57. Favourite album cover by Nina Gruber @HappyNeedles
56. Lady Morphing into Space by Gio Luca at Lucky's Tattoo in NoHo
55. One more session to go on this one! Done by Jason Norton at Htown Ink in Holland
54. 1st tattoo/session. Elephant with Purple ribbon for my dad. By Barry San at Tattoo Boulevard in Chicago
53. Night to day landscape connecting ranges from Yosemite, Himalayas, and into Mt. Fuji. Artist: Zac Adkins, Ascention Tattoos
52. Done by Alisha Gory at Grit N Glory in NYC
51. gimme a little space, baby. By Steven James at Grey Harbour Tattoo, Hamilton ON
50. Fresh picture of my first color piece. – Alex at Old Salt in Jacksonville, NC
49. Flower girl by Morgan Dana at Two Birds Tattoo in Seattle
48. Finally broke my legs in – custom thigh piece by Emily Conklin @ Stay Gold in Birmingham
47. Done by Mark Sinsel @ Holy Ground Tattoo in Buffalo NY
46. Done by Jacob Dynes at the Studio tattoo in Roseville
45. Done by Gordon Combs at Til' Death Denver
44. D&D/Witcher sword Inspired by another post from here by Josh Hurrell @Legacyink, UK
43. Armpit tattoo done by Pete Palmer at Black sheep Tattoo in Windsor On. Original art by Sebastian Eriksson
42. Three-eyed raven done by Joe at Relic Tattoo in Horsham PA
41. Owl and rat done by the wonderful Kira at Ink and Water, Toronto
40. My Obsidian Tattoo done by Kara Klenk at Legacy Tattoo Lounge in College Station, TX!
39. My grandfather, an invincible mountain man from Montana, passed yesterday. My tribute to him. Done by Chris Mallory @ Independent Tattoo in St. Joseph, MO
38. My druid lady from Lauren at Liquid Amber in B.C
37. Mayan Quetzalcoatl God , in an uroboros form made at tiajuanatattos Tijuana , Mexico
36. Just got married in Poland and this was what we used instead of a limousine. Done by Jakub at Till Death Tattoo, Toruń Poland
35. Inquisitorial sigil (wh40k) by somos at GOLD Balam in Villahermosa, México
34. Dragon Armor by Ryan Methric at North Main Tattoo Studio & Art Gallery
33. Done by Madman Marcus at Elysium Ink Concord NC
32. Cre8ive Ink, Sophie, Melton Mowbray. Sat for five hours for this and I love it!
31. Circuitry yin yang with the eye of agamotto by Taylor at Yes it hurts in Beaufort SC
30. California kingsnake oroborus, by Camille Krilanovich at Sparrow Hart in Sausalito, CA
29. Sketchy Tank grim reaper by Logan at Stinkeye Tattoo, Amite Louisiana
28. shark tattoo done by Sherlane White at Grey Harbour, Hamilton Ontario
27. my space buddy done by Sherlane White at Grey Harbour, Hamilton Ontario
26. My pup who passed away in half geometric form done by Anthony Triana at 27 Tattoo, Phoenix
25. My new SirenMermaid by Maya Goldfinch, Dark Side Body Art, Hannover
24. My love for Disneyland, Walt Disney, and Mickey Mouse was brought to life! Done by Junior at Club Tattoo in Las Vegas!
23.Medusa done by Sysko @ Tattoo Fiesta in Duluth,GA
22. Max done by Marqui Watling of Get Up Tattoo Society, Cincinnati
21. Just got my first tattoo! Its an adrenaline molecule and I'm looking forward to adding more molecules down the line! Done by Lisa Bracero at True West Tattoo in San Luis Obispo
20. Creighton of Mirrah – Dark Souls tattoo – done by CJ at Love Letters Tattoo in Los Angeles
19. Clock being absorbed into a black hole. Done by Tye at War Kings Tattoos in Orlando
18. Check out my new tattoo, done by Ally at vaders.dye
17. Cat Skull For My Boy! Done By Nick At La Planque In Montreal
16. Black Hand Tattoo Hixon TN – artist Bobby Tinker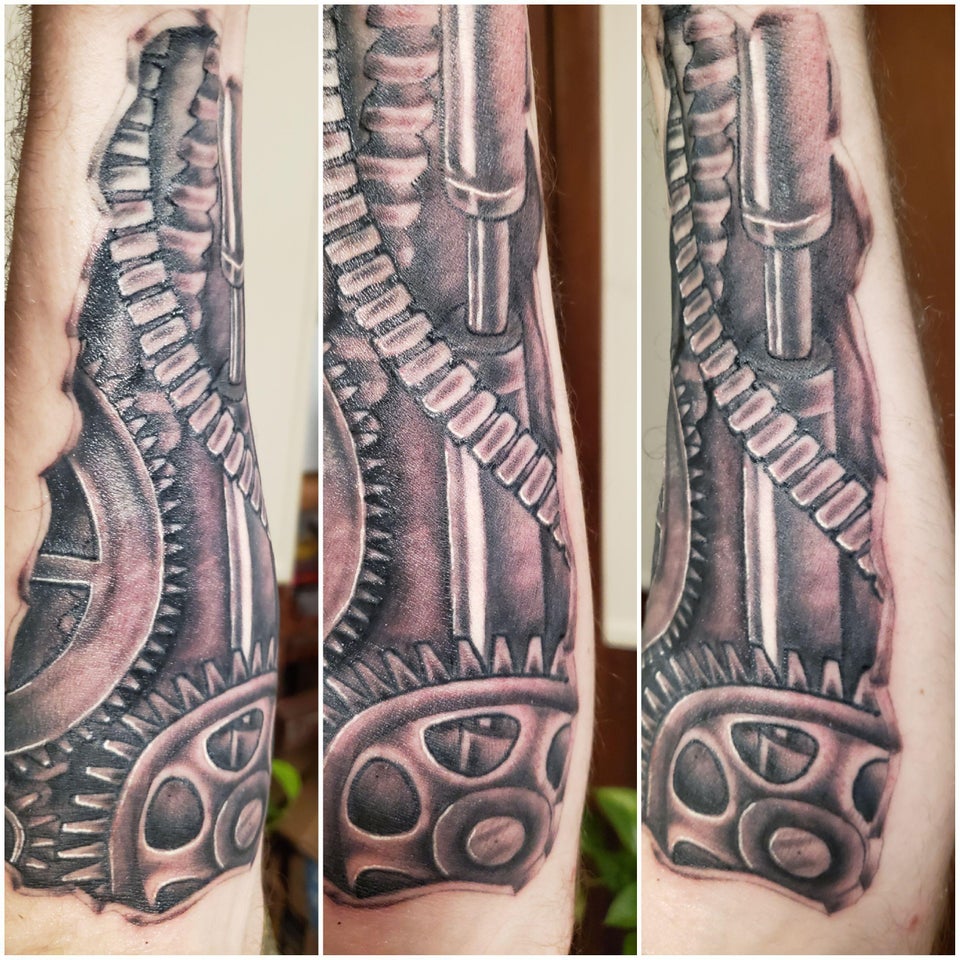 15. Baphomet by Cruz at Freedom Tattoo in Santa Cruz
14. Badass piece by Eric at Modern Tattoo in North Chicago. My favorite tattoo so far
13. Alien from Mars Attacks! done by Jaena at Money Hill Tattoo in Chepachet, RI
12. A Deaths Head Hawk Moth by Ben Vickers at Red Tattoo, Leeds
11. "Spirit of Peace" by Wassim Razzouk @ Razzouk Tattoo in Old City Jerusalem
10. My Athena tattoo by Jack
9. Medusa (23 sessions in), Paris @ Paris Tattoos in Charlotte
8. Kappa and Kitsune Mask done by Amanda
7. Jackalope by Monet Patrick at Monkey Wrench Tattoo in Santa Rosa
6. My traditional Japanese sleeve done by Stuey Singh of Altar Tattoo, Calgary, Canada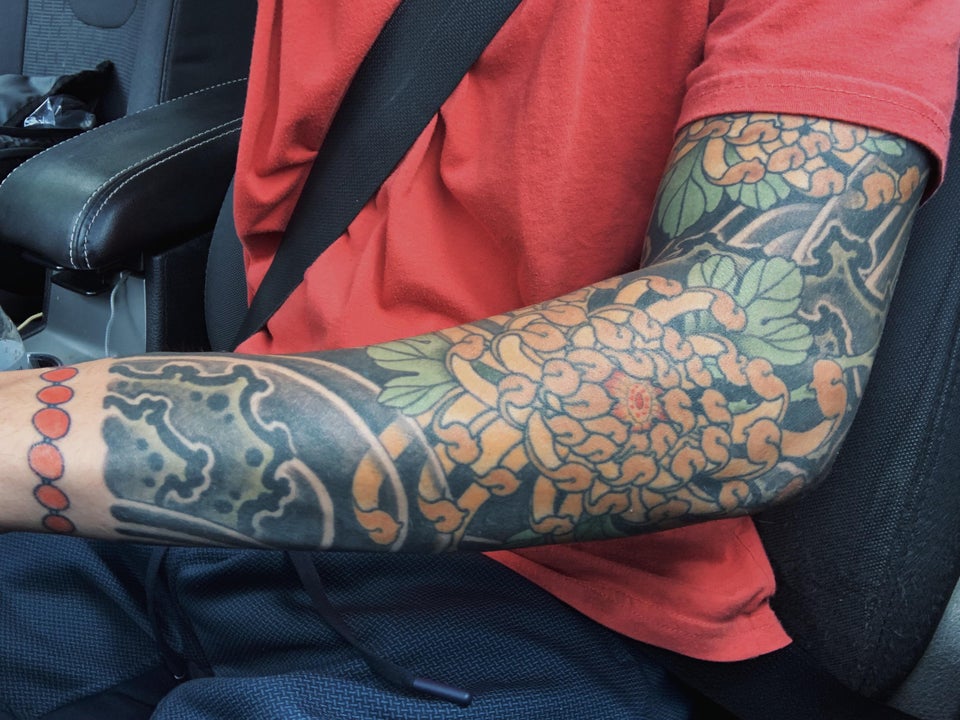 5. Got my first tattoo. Done by Milana Soya at Good Sign tattoo in Minsk
4. Fresh Bill Murray done by Karla at Dire Wolf Tattoo
3. First tattoo done by Brian at Zen Tattoo Maui in Kihei
2. Cat creature by Molly at Ash & Ivory, Chicago
Army of one By John at Oasis Tattoo