361. First tattoo (watercolor Enso) by Daniel @ Ocean Blue Tattoo in Mpls, MN
360. An Oni between two roses not finished yet, done by Shawn at Town Hall Tattoo AKL,NZ
359. Mason jar with wildflowers by Adrian Montoya at Animal Farm Tattoo Chicago (better pic of faint colors)
358. Stitched Macintosh by Andzi Gera, Kaunas city, Lithuania
357. First tattoo went way smoother than i expected. Done by Narak Tattoo in Birmingham UK
356. Coverup before and after. Done by Kyle Mackenzie @ North Street Tattoo, Salem
355. Naruto inspired arm piece by Mark @Boron Art in Long Beach
354. Lotus flower and mandala (3 days healed) By Johnny Beavers , Publik Studios, HTX
353. Dagger Tattoo done by Cori James Tattooer, out of Ritual Tattoo and Gallery in Denver, CO
352. Minecraft Bee done by Lars at Ink Smith and Rogers (Riverside Location), in Jacksonville FL
351. A Trip To The Moon done by Craig at The Crypt, Shropshire, UK
350. None of my business by Matt Bremmer at Sinnin Skin in Brodhead Wi
349. My newest piece done by Paul O'Rourke in all star ink, Limerick, Ireland.
348. My favorite rosary piece I've ever done. I photographed the rosary on my clients arm at every angle to create the design for this one. A lot of love went into it and I couldn't be happier with how it turned out. Done at my shop War Kings Tattoo in Orlando
347. First time inked! Done at Studio Seven, MI. This is a scar cover up
346. Peter Tingle – Done by Johnny Ruthless ay TrueVisions Tattoo
345. First tattoo! Done by Jayne at Fidelity Tattoo Co in White Marsh MD!
344. The Lovers tarot card done by Jenn K at Mr. Blue Skies Tattoo /\ Egg Harbor Township, New Jersey
343. Four Elements from Avatar by Alicia Thomas at Boston Tattoo Company in Somerville, MA
342. Axe by Marty from Picasso's Penthouse (Belfast) It was too big to fit the whole thing into one photo.
341. Second tattoo, done back in February. Done by Saint Karlos at Box5 Tattoo & Fine Art in Livonia, MI
340. Hotline Miami's 50 Blessings tattoo made by Naranjo at Rock and Roll Tattoo
339. Hamsa tattoo on my thigh. ( Tyler at Norsk in Buford)
338. 3rd Tattoo – old Tony Polito flash done by Fernando Lions @ Flyrite Tattoo in Brooklyn, NYC
337. Flowers to finish sleeve by Inez Janiak of Inee tattoo, Łódź, Poland
336. Landscape with a moose, Matt Peters at Gypsy Soul Tattoo, SLC
335. Ouroboros on my palm at Seven Sins Tattoo in Sarasota, Florida done by Matthew Mcfadden
334. Kitsune mask by Melanie Mae from The Hague
333. Bisexual Wave (By Ashley Henson at Born This Way, Knoxville TN)
332. My first tattoo: Geometric frame with mountains done by Kara Klenk at Legacy Tattoo Lounge, College Station
331. [Fresh] Memorial tattoos for my fiancé. Script by Gillian Marie and Wolf by Ericksen Linn, both at White Oak Tattoo in West Chester, PA.
330. First Tattoo! American Traditional dagger and rose done by Mark Stewart at Forever Tattoo Parlour in Cape Coral, Florida.
329. The Thing by Tamia Overes at Pulse Vancity
328. Cucumber vine around my arm. Done by Andrea Burg at Iconic Tattoos in Detroit MI.
327. Girl and her flower by Rich Lucero at Lakeside Tattoo (Richmond, VA)
326. First tattoo by Paula Tamayo at Zanatteo (La Plata, Argentina)
325. A year after my my grandfathers' memorial tattoo, I got my grandmothers' one added! Done by Horia at Dutch Ink. in Vlaardingen, The Netherlands.
324. Montana Tattoo Company, Missoula, MT, Phil Roberson, Snake & Roses. I just got this tattoo a few months ago but not sure what colors to do on the snake. Any thoughts?
323. Saturn tattoo (healed) by Seymour at Red Five Tattoo in Lawrence, KS
322. Got this done a little while ago @ grapevine tattoo in Vancouver. Breann was my artist.
321. 2nd tattoo, pretty explanatory, done by this guy Eric in Denver, CO
320. Newest tat done by Show at Inkaholiks in Temple Texas.
319. Gladiator Hulk – John Earman, Brotherhood Tattoo Prague
318. Brandon Servellon, Infamous Ink Tattoo, Pico Rivera, Ca.
317. Hobbit inspired tattoo. Done by Angel at absolute tattoo San Antonio
316. Fresh Foo Dog done by Jerry Blades @ Ocho Placas Tattoos in Miami FL
315. September D20 by Karissa Anne at Ninth Wave in Asbury Park, NJ
314. Final session of my forearm finished. Done by Dan Ward out of Rorscharch Gallery 2.0 in Hillsborough, NJ
313. Green Man I had done! By Thomas, Dr Feelgoods – Liverpool, UK
312. One of many tattoos to raise money to send his daughters class to space camp— by Tyson Taumaoe at Hideout Tattoo in Las Vegas, NV.
311. My second big tattoo, do you like? Made by @irablackink (Instagram). Based on Russian girl character (apple trie, poppy, deer's skull and wheat). Now 1,5 year.
310. Moth and Spider that I got done this week, by Jason Winslow at Asylum Studios.
309. Wanderlust by Molly @ The Rabbit & The Thorn, Toronto.
308. American traditional American Buffalo done in Lake Havasu City, AZ
307. My second Tattoo, thinking about adding something to the back to finish it off.
306. Latest tattoo done by Erich Daoust at Lost Art Tattoo in Midvale, Utah.
305. Puck the Cat memorial by Jason Banks, Studio 31 in Worcester MA
304. Solar System (including pluto ofc) done by Michael at Roker Tattoo Studio in Sunderland, UK
303. My finished Tiger Tat, done by Dan at Cherry's Tattoo, Hornchurch, Essex.
302. Borderlands tattoo (my all time favorite game) done by Jesika at Trinity Tattoo Co. Longwood, FL
301. My Fall/Haunted House themed tattoo done by Tom Connors @ Bound For Glory Tattoo in Staten Island, NY
300. Koi girl. By Jesse at Mania Ink in Milwaukee, WI.
299. Flower face girl done by me, Kale, at AI2 in Cypress, Tx
298. King Muskrat by Mike Riina at Lionfish Tattoo in Lansing, Mi
297. Shpongle mask, cover-up. Done by Nathan Perry @ Big Daddy's Tattoo in Port Charlotte, Florida.
296. My American traditional dragon. Part of an on-going sleeve by Dave Halsey @ Crying Heart Tattoo in Cincinnati, OH
295. Mandala + Hand = Handala by Nick Appolo out of Wilkes Barre, Pennsylvania! (570 Tattooing Co.)
294. Patronus silhouette and Deathly Hallows done by Ethan at Lucky 13. Richmond, VA.
293. Inspired by my love of space. Waz from Equilattera studio in Miami, FL
292. Fine Line Botanicals: Fresh vs. One Year Healed (by Kelly Ye at Tattoo People, Toronto ON)
291. Family tattoo done freehand by tak Jones at tk tattoo kingdom Wales UK
290. Finally got my sacred geometry sleeve started. Done by David Flores at Javelina Tattoo in Beaumont, Tx.
289. My first Tattoo. Done by Hannes at AKA Berlin.
288. My first tattoo! Done by Jimmy at Le Dilemme private studio at St-jérome, Qc, Canada.
287. Done by George Alikov at Guy Levin's Tattoos, Israel
286. Much needed cover up by Paul at Golden Rule Tattoo in Phoenix Az.
285. Coheed Keywork & Dragonfly – JP at In The Shadows, Lisbon CT
284. My first tattoo, done in Beijing by 小满 (Xiaoman) | needleman tattoo studio
283. Ottawa! Done by Anton at Ink and Water Tattoo in Toronto, Ontario.
282. Traditional Memorial Anchor by Brian Kimball, owner of Collar City Tattoo Troy N.Y.
281. Is it normal for the ink to be that faded under the skin that peeled off? I got this tattoo 5 days ago.
280. No Face tattoo by Nathan Garcia at Independent Ink in Sterling Heights MI
279. Clod! – Base Tattoo, São Paulo – SP, Brasil
278. First tattoo, from Josh at Saint and Sinners in Auburn, Alabama. Super psyched about how it came out!
277. Cover up of a shitty scarred up spider web. New art done by James Vialpando at Arcanum Electric Tattoing in Pueblo Colorado
276. Phoenix by Annita Maslov, Heretic Tattoos, Melbourne.
275. Skull by Maxwell LaCroix at Empire Inks in Appleton Wisconsin
274. My 2nd tattoo done by Bombayfoor at Lodotattoo, Cesano Maderna
273. After a horrible car accident in July, the god of death swung and missed: done by AJ AUlOSE at Aerros ink, San Antonio, TX
272. Big thank you to Marty from Picasso's Penthouse Belfast for my awesome wishbone Tattoo!
271. |No.9 kraken vs. The ship| done by cory at Willie's tropical tattoos, Ormond Beach FL
270. Koi fish tattoo by Travis "T-Bone" Bracht at Guns 'n' Needles, Uptown Minneapolis.
269. Dark Tower tattoo by Corinne at Human Canvas in Fredericksburg, Va. Tower, eye, and Deschain family symbol are old. Flowers and background added today.
268. Animal Crossing half-sleeve; art by u/FlorJustFlor, and tattoo done by Earl at Body Armor Tattoo, Kalamazoo MI
267. My norse knotwork tattoo, job and design done by Max Macandrews at Pounding that AS in Tromsø.
266. Haku from Spirited Away! Done by David Poe at Moon Tattoo in Austin, TX
265. Spider-Man tattoo, done by the awesome dug at My Tattoo located in Huntington Beach, California
264. Hogwarts and Bag End hand tattoos done by Casey Page at Ultimate Image in Lake Charles,LA
263. Graffiti Inspired Octopus by Chris Holbet at Golden Rooster Tattoo in Hesperia, CA
262. My first tattoo, made by Shyno Yamaguchi, Art Pura, Curitiba, Brazil.
261. MK Scorpion tattoo by Connor Young darkside tattoo's Waterlooville UK
260. In memory of my dog Petri, done by Kyle Olsen at Good Times Tattoo's in SLC, UT
259. Triforce/Traditional Rose elbow combo by Beau Adams at Idle Hand, SF
258. Traditional Xenomorph – Mitch Burke, Iron Anvil, Nowra NSW
257. Fully healed Wonder Woman. Tattoo Artist: David Castaneda of Ink Fellaz in Hesperia, CA. Tattoo inspired from Jenny Frison Wonder Woman comic cover art.
256. Start of my geometric/black work sleeve done my Cammy @ Stewart Brothers Tattoo Co based in Dundee, Scotland.
255. Memorial tattoo of Dad and Sister by Brody @Stay True Tattoo in Sedalia Mo
254. Yin and Yang Koi Fish I got earlier today from my best friend that's still practicing and getting used to giving tattoos, any name suggestions for my new Koi Bois?
253. Got this done at the Galway Tattoo Convention yesterday. By Jimmy at the Electric Soul Cork booth! Princess Mononoke mask and dagger
252. Sean Hill, Dead Slow, Brighton. Picked from his flash.
251. Neat lil kitsune mask tattoo by Breanden Angley at 570 Tattooing
250. Awesome job done in under an hour by Ben Hoteling at The Missing Piece in Spokane, WA.
249. My first tattoo. By Yuri Fat'kin, "69 Level" Tattoo Studio, Perm city, Russia. Feels like I'm about to put more on myself and it is just a nice start!
248. Haku from Spirited Away, done by Al Luna at Rich Ink, North Hollywood, CA
247. Witcher tattoo done by Chris Tyler at Good Times Tattoo in Pottsville Arkansas
246. Floral brain as a neuroscience student by Giovana Marsura at Chapter One Tattoo (San Diego, CA)
245. First tattoo ever gotten, simple but I love it. Done by Hansel at Gregos Tattoo, Miami, Fl.
244. My new Misfits tat by apprentice Jason Scott at Aurora Ink!
243. My first Tattoo done at Benson Gascon in Bern by Bartek Szpera Tattoo
242. Blackwork jellyfish for my first piece by Levi Cherry at Idol Hand, Liverpool, UK
241. My first tattoo: A Triforce from The Legend of Zelda done by Steve Oker at Momentum Tattoo in Tampa, FL
240. Do u guys have any advice on how to protect this? I just currently got this done and dont know how to protect it( I work in a kitchen)
239. Been having bad anxiety lately, so I went and got tattoo by myself (a first for me.) "live fully now" a lecture by Alan Watts that's been on repeat for me the last few weeks, done by Alex Castellaw, gold city tattoo in Dawsonville, Ga
238. Broken heart, done byJacey Love at Dorstocker tattoos, Kent, UK
237. My healed airplane/IR map inspired tattoo by Kris Thomas @ all about it tattoo
236. Classic Snake and Dagger Tattoo by Charlie Rose Tattoo Canggu Bali
235. A lovely rat with rose quartz and daisies by Amber Ramirez at Tattooed Heart Studios in Hanover, MD.
234. Octopus has been my favorite animal since I was a kid!
233. Skull and snake forearm sleeve my me (Stefani Stipple) @ Iron Thorn Tattoo in Trexlertown, PA
232. Got my first tattoo last week: The Preacher Man – done by Matt Bailey at Parliament Tattoo, London
231. Relax, done by Letiția at La Leti Tattoo, Timișoara
230. My first tattoo. A spacey geometric piece by Drew Nelson at Triton Tattoo, Santa Cruz CA
229. (Unfinished) work by YelliTats, Long Island.
228. Ragnarok by Anthony Fowler at Tatt Datt Tattoo, Melbourne.
227. Kraken wind bar half sleeve done by Micko Tarepe at Micko Tattoo, Pasay City, Metro Manila, Philippines
226. "Lifeline" by Kurt Jacobsen @ Unbreakable Ink in Rolling Meadows, IL
225. Halloween bat lollipop tattoo done by Christiane Rudd @ Miraculous Creations in Worcester, MA
224. New geometric tattoo done by Taylor Moore at 70six, Taunton, UK.
223. New ink by Jaded Moon at Iron Quill in Madison, WI. Other side of cuff has tiger
222. Dark Souls bonfire by Dee Benzo at Avalon Tattoo II – San Diego, CA
221. Lady Gaga as Venus by Maria Garza at Timeless Tattoo in Los Angeles, CA
220. My wolf by the amazing Emily Rose Murray here in Melbourne, AUS.
219. Dark art monster eyeball done by Tyler Nguyen, (me) out of My Little Needle Tattoos, Plymouth, MI Instagram @boxofguts
218. My first tattoo done this week by Ben at Thou Art in Sheffield
217. Halloween is approaching – Tim Lease – Orlando, FL – Golden Tarot Ink Club
216. My new sleeve in progress, made by Tomer Jones @ Mr Jones Tattoo. City of ashdod, israel. Tell me what you think 🙂
215. Got this done in memory of my grandmother who passed away earlier this year. Artist: Chris, Legacy tattoos in Austin, TX
214. On the shin. Done by Andrew Green in Glastonbury, CT.
213. My first tattoo by Kaitlin at private stock in Racine, WI
212. I'm loving it! Made by Alex Buchner at the 19:28 tattoo club
211. Simplistic Gandalf the Grey – Artist: Megan, Studio 58, Cumbria.
210. Tattoo done by Rod Rodriguez, River City Tattoo, Richmond, Va.
209. Devine Mercy Cross by Daren at Universal tattoo in Ottawa ON
208. Cat done by 17 @ NewTattoo Studio in Beijing
207. My very first tattoo honouring my favourite movie. Done by the fantastic Dizz at Limited Edition Tattoo, Doncaster
206. "Hell Bat" by Bowser at Unikat black, Berlin.
205. My winter wonderland scene, done by Abby @ Diversified Ink in Bangor, ME.
204. Xenomorph Queen by Sara Louie at Skull n Bones Denver, CO
203. Bloodborne inspired piece by Heidi at The Good Fight Tattoo in London.
202. Completed Lynx and Kitten half-sleeve by Rebecca at Old Forge Collective, Sheffield, UK
201. First sit on a sleeve based on space and nature. Done by Abbie Williams, Gold Room Tattoo Studio, Leeds, UK
200. Greek Titan Atlas done by James Boag at Iron Will Tattoo in Eustis, FL (nonexistent calf)
199. Creation on my skin by Zsofia (dark art tattoo) in Budapest
198. My first tattoo to commemorate a father-son trip to Hawaii, something we'll probably never get to do again. Done by Daniel at Sacred Art Waikiki
197. I got my first session done today of a 3 piece tattoo I've planned for like a year now. Also my first tattoo. Got this done in Myrtle Beach SC
196. Oh Sailor-Man come take my hand – 3 new Tattoo's in one 5 hour session all done by the Incredible Oli Read at Magnum Circus, Cheltenham (UK).
195. Dionysus, God of Wine by Jon Davis at Vessel Tattoo Co., Syracuse, NYa
194. Abstract semicolon by Joanne Slorach at The Hive Tattoo
193. Dark souls bonfire scar cover up, done by Willom at Clonmel Ink
192. 42 years ago from today Voyager 1 launched, and would eventually become the first man-made object to enter interstellar space, done by Jerika @ Eternal Tattoo, Springfield, MO
191. Robert Chamberlin, Revolution Tattoo, Chicago
190. Muad'Dib on Arrakis – 3ish year old tattoo (with some fresh color touch ups), Adam Worley @ St Pete Tattoo Company, St Petersburg FL
189. My first tattoo by Richard Cawkwell, Skin Deep, Cleethorpes, UK. Looking forward to the next one.
188. My cock eyed cat Oliver 🙂 Mike – Ravens Claw – Tacoma, WA
187. Getting fuller by the day! By artists Mariink & Needles and Pins tattoo – Belgium
186. A little portrait of my boy that recently passed 'Latte' with a comparison. Done by Sonja at Bullseye in Staten Island, NY
185. Just got pokemon done. Spiderman is my first tattoo about 2 years ago. both from Ben at haunted hands in Tucson,az. Going to get batman&Robin and the green ranger soon
184. Henna inspired tat // Done by Adam
183. My first one. Matt Decker, Premium Tattoo, Oakland, CA
182. Skeletal cosmonaut by Louis Cretney @ Tatouage Urbain, Gatineau QC
181. Don't panic: Tony Silva – Electric Arrow – Long Island NY
180. First one. Matt Decker, Premium Tattoo, Oakland, CA
179. King of the One Piece by James Tran at Full Circle San Diego CA. Done this morning!
178. Finished Neo trad Aquarius by Hannah Westcott @ Noiseland Tattoo, Leicester UK
177. My red fox with a watercolor border, by Robert McCollum of Paris Tattoos in Charlotte, NC.
176. The Thing by Tamia Overes at Pulse Vancity!
175. Aku Aku Chris Mcgill at Pure Ink in Newcastle Upon Tyne
174. Favorite comic of my childhood. Done by David Blake, Ink'd Out Tattoos, Cedar Creek Tx.
173. By Zach Nelligan at Mainstay Tattoo, Austin TX
172. Old school Bison tattoo done by Alex Candela @Black Market Tattoo Parlour in Leicester UK
171. My Venom tattoo. Done today at Chimera Tattoo Emporium by Ren in Barry, Wales
170. Starry Night, Joseph Mele, Into the Woods Tattoo Stuart FL
169. Start of my weeb sleeve done by Toto at animated canvas custom tattoos in Columbia SC
168. gave my spirit tree a little background 🙂 Done by Jess at Dharma Ink Studio in Easton MA
167. Done by Rich Wren guesting at Woodwork Tattoo in Bremerton, WA. Rich owns Relic Tattoo in Horsham, PA.
166. Is there any artist in the denver area that is able to do this tattoo?
165. Mene, made by Ricardo (@ricardogtattoo) at Alla Prima Tattoo Lisboa.
164. Custom Sigil Tattoo by Janine Houseman in Phoenixville, PA at Creatrix Collective
163. Moth by Shawn Hutton at PTS in Pensacola Florida
162. Snargonfuljs Tower, by Sophie Wren at Cre8tive Ink, Melton Mowbray.
161. Vancouver Wolf Tattooed by Rick at at XtremeInk, Geelong. So happy with the detail! Hmu with ideas for the underside of my forearm
160. Tiger on inner forearm. Artist: Joe Melin. Location: Faces in the dark tattoo. This piece took 10 hours and was done at the Tattoo the Lou convention in STL
159. Monster eye by Tyler Nguyen (me), out of My little needle tattoos, Plymouth, MI
158. The start of my first tattoo from Carlos at Bloodline Elite Tattooing in Oklahoma City, OK.
157. Highly futuristic hidden blades, By @peurbleue_tattooshop, Marseille
156. First tattoo, a sketch of my dog Lando by the fantastic Almudena Roart (Losetatto Studio)
155. Monster eye by Tyler Nguyen (me), out of My little needle tattoos, Plymouth, MI
154. Vancouver Wolf Tattooed by Rick at at XtremeInk, Geelong. So happy with the detail! Hmu with ideas for the underside of my forearm
153. Ferdinand, by Rich Johnson at Tattoo Charlie's in Lexington, KY
152. my first tattoo done by das frank at studio 21 tattoo in las vegas
151. Final fantasy mage, skin city. Monroe north carolina
150. Proof I could be the leader of the Tom Waits cult. Done by Billy at Tattoo Paradise in DC
149. My new Uzumaki tattoo. Couldn't be happier. Saul Chicarelli, Arts Ink, Jonkoping, Sweden.
148. Dark mark tattoo done by Kerste Diston from the drawing room, Coventry, UK
147. Got my first tattoo today thats why its so red from KT at 14 arrows, Tunbridge Wells.
146. Athena, by Shingken at Black Diamond Tattoo in LA
145. Cyborg Eddie from Iron Maiden, done by Paul at Battleground Tattoo in Franklin, TN
144. 2 years healed, Steve Wimmer – Grand Reaper Tattoo in San Diego, CA
143. Snake done by Kozik at Little Gold Studio, Brunswick- Melbourne
142. My new Uzumaki tattoo. Couldn't be happier. Saul Chicarelli, Arts Ink, Jonkoping, Sweden.
141. Got my first tattoo today!! Now everyone can see how much I love bees. Done by Mimi Guoh from Valley Ink, Fortitude Valley QLD
140. Fiery embrace by Morgan Amlett at Square Rose Tattoo
139. Newest tattoo by Katya Galina, Devil's ink lab, Powidz Poland.
138. My first tattoo on my wrist by Sharky Jones (Ironsides Tattoos – Charlottetown, PEI)
137. Drama mask by Dre from Black Ink Crew at Kansas City Tattoo Convention
136. Porcupine done by Andy at Physical Graffiti in Rochester! (His name is Clyde)
135. Hellraiser by Dom Flood at Wild Oats Tattoo in Charlotte NC
134. Margherita pizza by Jordan at Red Brick tattoos in Charleston SC (2 hours old)
133. Gloom n Doom by Kira at Ink Junction
132. My Space obsession is now permanent 🙂 By Julie Marteau @ Hell Tattoo – Belgium
131. Reeeeeeally digging this blackworkish style right now. Done by Brooklyn Vandale at Dont Look Down Tattoo in Kelowna BC. Looking forward to getting more like this.
130. Freshly done fox by Casper Callaway @ Earthbound Tattoo Sand City CA. I absolutely love it!
129. Japanese Traditional Frog by Hunter Gray @ Legacy Tattoo in Springfield, MO
128. Floral and bee by Maria Garza at Timeless Tattoo in Los Angeles, CA
127. Medusa (WIP) by Angela Emr at Studio 13 Cocoa
126. Harley Davidson Demon Skull By Crizo From Studio 819 In Cookeville TN
125. Majin Vegeta by Jess Scutella @ Kyklops Studio Pittsburgh, PA
124. First tattoo inspired by my mom in both the words and the Beauty and the Beast Rose. Work done by Reed McMaster at Mean Street Tattoos in Bensalem, PA, USA
123. My sunrise tattoo by Josh Mcnair at Jackson st. Tattoo. Roseburg, Oregon.
122. Rachael at Castle City Tattoos in Greencastle, IN
121. My Stilton tattoo done by Fronkie at Unkindness Art in Richmond, VA. There's a few flaws but I'm still so happy with it.
120. 1st Tattoo as my birthday present! Done by Alex Rojas as Main Street Tattoo Co. in Western Mass!
119. Reeeeeeally digging this blackworkish style right now. Done by Brooklyn Vandale at Dont Look Down Tattoo in Kelowna BC. Looking forward to getting more like this.
118. A "portrait" of my pug Frida, done by Beto Trejos at Stattoos Escalante, San José Costa Rica.
117. American Traditional Style Vaporwave Statue of David by Little Dave Parker at True Tattoo in Hollywood
116. Scorpion and rest of sleeve done by Maria Samoilovaite at Old Glory Tattoos in Tallahassee, Florida
115. "Taylor" Made….Done at Inferno Ink in Burlington NC – Artist Taylor
114. My first, done by Carrie Cameron of Branded Tattoo Company, Nashville
113. Ickis by Robbie Bauer at Rebel Rebel Tattoo in Dayton, Ohio
112. The Witcher 3: Half Eredin- half fade Geralt of Rivia; done by Paul Munteanu at Poly Tattoo Studio, Bucharest.
111. Peonies by Rachel Walker at Golden Sage Tattoo in Doylestown, PA.
110. Inspired by my soul. Done by Chris Wielk at Studio kazoku in San Francisco, California
109. Art nouveau inspired floral arms tattooed and posted by jeff croci of 7th son tattoo in San Francisco CA
108. My Manta Ray and diver. Made by Chris Tofteng, Iron & Ink Østerbro, Copenhagen.
107. Cohesive dragonflies by Trisha Jean at Tattoo Avenue in Tucson, AZ
106. Kero from CardCaptors. Done by Libby Lou at Steadfast tattoo in Phoenix AZ
105. Won the title of best dog mom last Saturday. Done by Pat Crump at the butcher tattoo studio in Savannah
104. Propellers, by Will Peterson at Zaza Ink in West Boylston
103. Space themed for arm piece by Eszter, Rock'n'Roll Tattoo Glasgow
102. Got this bad boy done by Spencer Webb at Remedy Tattoo shop in Murray
101. My mini portrait of Anthony Kiedis done by Inkmaster DJ Tambe at Bad Apple Tattoo in Las Vegas
100. Grimm Heart by Mr Preston @ Heartless Hands Club, Manchester
99. Intersecting Circles – Randy Meyer, Sangha Tattoo Studio, Eureka
98. Plague doctor done by Tommy Burnevik @ Spellbound Tattoos in Osseo
97. Caribou by Julie at Imago
96. Almost completed fallen angel tattoo by Brian Glatiotis at Dark Day Studios in Vancouver
95. Venus flytrap, Timmyb at Niteowl Tattoo, Noho Mass
94. Healed geometric/chemistry compass tattoo by Joanna at Chronic Ink
93. My new tattoo by Can Unal over at Enigma Tattoo
92. First tattoo, done by Elle at Midnight Oil Tattoos in Regina SK
91. Eevee and Umbreon done by Lacy at inkfluence Lubbock Texas
90. My homage to Assassin's Creed 2. Done by Jim Wilding at Black Moon Tattoos
89. Outer forearm area of sleeve by Elric at Empire
88. Scar cover up by Frances at Modern Body Art in Birmingham
87. My Disney tattoo, done by Rachel in Crooked took, Hemel Hempstead, UK
86. My Manta Ray and diver. Made by Chris Tofteng, Iron & Ink Østerbro, Copenhagen
85. Kagome from Inuyasha by Kimberly Wall aka BunnyMachine, Soho Ink, NYC
84. Angel's trumpet by Marty at Kustom Kulture in Geelong
83. Blasting this on my arm tomorrow thoughts?
82. My doggo's paw print. l'Extremiste, Arnhem, Nl, by Andre
81. Two most recents. Both done by Don Louie from Kansas City, out of ol skool tattoo shop
80. Led Zeppelin tattoo done by Milan at lone star ink in Plano, TX
79. My homage to Assassin's Creed 2. Done by Jim Wilding at Black Moon Tattoos
78. My dog Charlie done by Paul Kooijman at Renegade Tattoo in Beverwijk
77. Half sleeve done by Leo at Guru Tattoo San Diego
76. Finally started my tattoo sleeve – would love to get thoughts and opinions Tattoos by Adam Jensen in Northside tattoos Whitley Bay, Newcastle
75. My latest tattoo. Hand of Glory by Hipos, Smiley Dogg Tattoo, Cork
74. Done by Seraina at into the black atelier
73. My universe inside each other tattoo from Marcelo Classic in 18 Custom Tattoo at Santa Catarina
72. Geometric honeycomb by Hans Serpa at SLC Ink in Salt Lake City
71. My first ever tattoo by Phil at Red Dragon, Heckmondwike, West Yorkshire. Party on dudes!
70. My boy Ozzy done today by Keith at Sink or Swim Tattoo – Niagara Falls, NY
69. My little mouse friend by Krish Trece at Ten Thousand Foxes in Brooklyn, NY; thought you all might like to see it after the amazing pangolin from yesterday!
68. First tattoo in by Peter Fleur de Lis Tattoos, Glasgow
67. My latest tattoo, Cheshire cat from Lothary at Inne Tattoo, Łódź
66. Four names of the Hindu Sun God, including my own name at top and my dad's at the bottom. By Fox at UNDRGRND SF
65. Geometric Wolf by Aaron Dale @ Electric City Tattoo, Scranton PA
64. My first tattoo ever! Painted my favorite Japanese painting to honor my Japanese inheritance. By Djovana from Selma Tattoo in Cuiabá
63. Koi fish done by jester at raining ink tattoo Columbia Tn
62. Siren, artist: Rachel Soucie Black Diamond Tattoo Hastings
61. Major Tom by Sunil Goyal at Xpose tattoos
60. Floral piece done by Steve at Crossroad Tattoo in Coralville, IA
59. All done, exactly how I wanted. Black Mirror White Bear logo with water colour, and a Heptapod sentence from Arrival ("Offer weapon"). Tattoo artist: Emily Lund, BH Body Art in Cleethorpes
58. Witch King of Angmar done by Tufan İsci at Odin Tattoo, Kemer/Antalya
57. Bluebird by Adam at Skin It Tattoo
56. Cover up I got done in July @ The Raven and The Wolves in Long Beach
55. My 2nd Tattoo: Artist is Jennie Tiesman from Delicious Ink in Rockford
54. My ambigram tattoo from Matt Curzon at Scythe & Spade in Calgary, AB
53. Bluebird by Adam at Skin It Tattoo – Ogden
52. Salad Fingers by April-Nicole at Fountain Square Tattoo
51. Lyre by Max Höllrigl @ Blackwerk — Vienna
50. Gramophone done by Mike at Tattoo You in Columbia, MO
49. My 2nd Tattoo: Artist is Jennie Tiesman from Delicious Ink in Rockford, IL
48. Hot Stuff Darth Maul by Chris Chapman at Lucky 7 Tattoo in Libertyville IL
47. My Dove and Hibiscus flowers done by Tony Perez from Black Mass Tattoo in Austin, TX
46. Samantha Compasso @attackofthe50footwoman. Saints and Sinners Tattoo. Baltimore
45. Coffee cup and wolf made by Colin O' Keefe, Speakeasy tattoo, Chicago
44. B&G rose by Zach Volatile @ Empire Tattoo in Arbutus, Md
43. Lobster done by Matt Crocker, Cobra Custom Tattoo
42. Mr. Robot tattoo done by Sofi at Marked For Life in Miami
41. Whale tail with waves based off a picture I took . Done by Becky at wanderlust tattoos in Halifax
40. Kep Foe/ Flesh Electric/ San Antonio
39. Hello all!! Here are some wild flowers done by Amanda Riner at Slave to the Needle, Ballard, Seattle WA
38. Blackwork floral by me Logan Bramlett Wanderlust Tattoo Society Akron Ohio
37. Poseidon, by Christie (@Davilclawtattoo) at Tattoo Lounge, Blackpool
36. My first tattoo, a trifoce by Fabbe/Whipshade at Catapult Tattoo
35. My vicious water lizard. By Jack at Pravda Tattoo Toronto
34. Got my first tattoo couple of months ago by Ernestas Narkevičius in Super 7, Vilnius
33. Done by Jesse at Sacred Art in Los Angeles
32. Jacob's ram by Josh at Evermore Tattoo Co. Los Angeles
31. Greek Goddess of the Hunt done by Alonzo at Restless Valley Ink Merced
30. Traditional strawberries by Caite Cole at Grindhouse Tattoo Milford
29. My first tattoo by Thomas Graham at 522 Tattoo in Lake Forest Park, WA
28. Shards of Narsil by David @ Bushman Ink
27. Brand New Eyes album art done by Robert Herrera at Dapper Ink in El Paso
26. Traditional shark by Dane at Abe's Tattoo Parlour in St. John's
25.Origami Fox by Ash K at Smilin Buddha Calgary
24. 3D Skull by Kino at Iron Age Tattoo in Saint Louis MO
23. Old school wizard by JF at Bait and Schlang in Montreal
22. Lil banger from Amanda Slater at Lakeside Tattoo Co in RVA
21. Lighthouse done by Nate Diaz in Rock A Billy Tattoo
20. In Honor of my Dad, freshly done by Mike LaFrance at Thor's Hammer and Needle in Poulsbo, Washington
19. Half sleeve in progress. Henshin A Go-Go, baby! Done by Neeko Giffin, Golden Spike Tattoo in Ogden
18. Got a tattoo done by William Pacheco at Evil Eye Tattoo in Stockholm, couldn't be more satisfied with it
17. First tattoo done by Wayne at Skins & Needles in Bury
16. Two years apart. Miss Mo Twist at Soul Inner House Retreat in Victoria Australia, first tattoo
15. Sunflower, done by Anthony at Monkey Bones Tattoo in Beavercreek, OH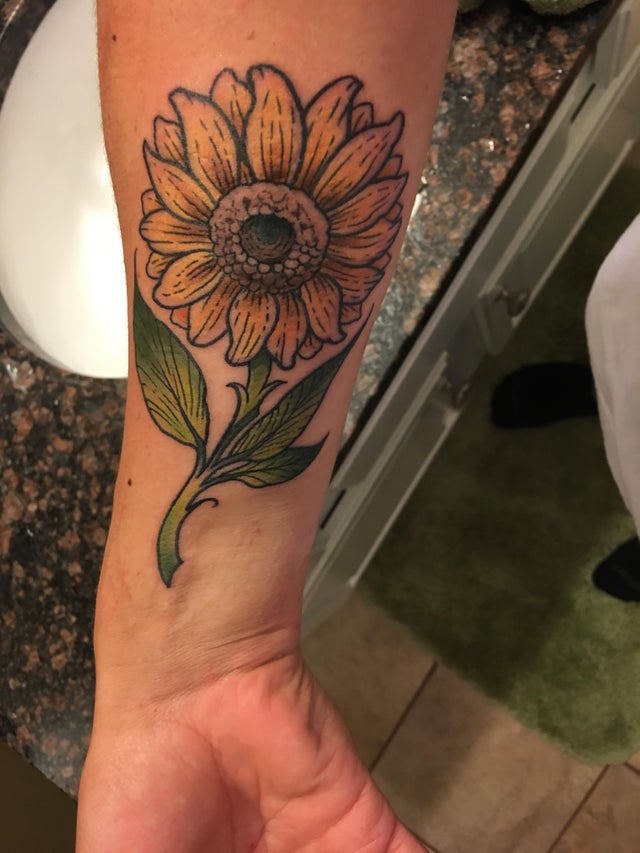 14. Sleeve in progress! Done by sunny at monster ink Crystal Lake IL
13. Slayer Raining Blood and metal horns done by Mark at Vincent's Tattoo and Body Piercing in Plattsburgh NY
12. Roadrunner by Maria Garza at Timeless Tattoo in Los Angeles, CA
11. Portrait of my father- done at Hope Gallery in New Haven, CT by artist Phil Young
10. My first tattoo on my left forearm, tree with moon behind branches, done by Mazacio in Hell.cz Prague
09. Lynx by Rebecca at Old Forge Collective, Sheffield
08. Just got this done by Sergio at Scoot Ink, Toronto
07. Hobo Pin-Up Cowgirl Jessie done by Anthony Gilbert (Ritual InkMartin,TN)
06. Hi I have a Disney issue. Tattoo by English Cousins at Safe House Tattoo studio Nashville TN. She is an amazing artist. This is fresh 2 hours and I love it
05. Hecate, goddess of magic, witchcraft, the night, moon, ghosts, and necromancy. Done by Jordan Danielle at Paper Moon Tattoo Co. in State College
04. First tattoo done by Terryn Morrison at Electric Tattoo, Longmont, CO
03. Don't Fear Failure, by Josh Smith at Forgotten Art Tattoo, Lancaster CA
02. Borderlands Krieg x Dark Souls crossover by Tom – Custom Cartel Tattoo Company, Thame
01. The start of my "Sobriety Sleeve" done by Sean Rivera at Ink Gallery Tattoo